For FABO quality means procedure and product quality as well as quality in the service provided to our customers.
At FABO we have been producing high-performance adhesive products since 1971 and innovation is the engine of our development.
Business processes designed and updated on-time with the utmost attention to information technology and communication allow us to reach a high level of efficiency and service. Customer assistance is managed with constant attention to the needs expressed at each stage of the relationship.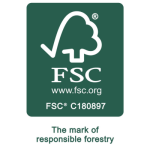 In 2022, Fabo obtained FSC® certification for the production of paper adhesive tapes. FSC® (Forest Stewardship Council®) is an international, independent, non-governmental, non-profit organisation founded in 1993 to promote responsible forest and plantation management. Its forest management certification is among the most widespread in the world.
Request our FSC® certified products.
The internal Research and Development laboratory is the beating heart of product innovation.
Our Research and Development department presents a specialised staff and advanced machinery for effective control of the materials to be introduced in the production cycle, to verify the various productions and above all to deal with the development of new products that allow customers to find solutions to their needs.
Innovation and competence remain core values of the company, which in over 40 years has developed distinctive skills in the industrial process, in interpreting market demands and translating them into innovative tailor-made solutions.
Internal Research and Development Laboratory
Prototype development and research of new applications based on market demand and requests
Development of projects in partnership with our customers