Tape with a customised print to make your packaging immediately recognisable.
Customisation of tapes with acrylic or hot melt adhesive is one of Fabo's distinguishing services.
With four-colour flexographic pre-printing, Fabo guarantees photographic print quality to the printed tapes.
High-quality customised tapes
To customise the tape with your own logo or message, you can choose from tapes made with different
adhesive technologies and various backings.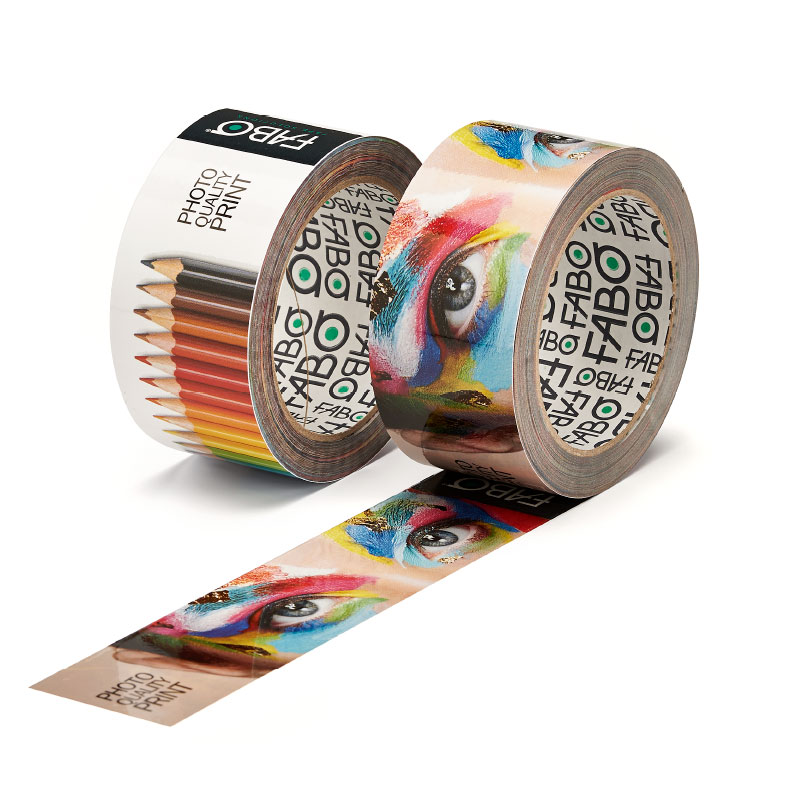 Fabo's sandwich flexographic printing technology allows a high definition print quality. This type of printing, which consists in the insertion of ink between the film and the adhesive substance, protects the printed colours and logos from abrasion due to use and ageing of the tape, guaranteeing a longer life time.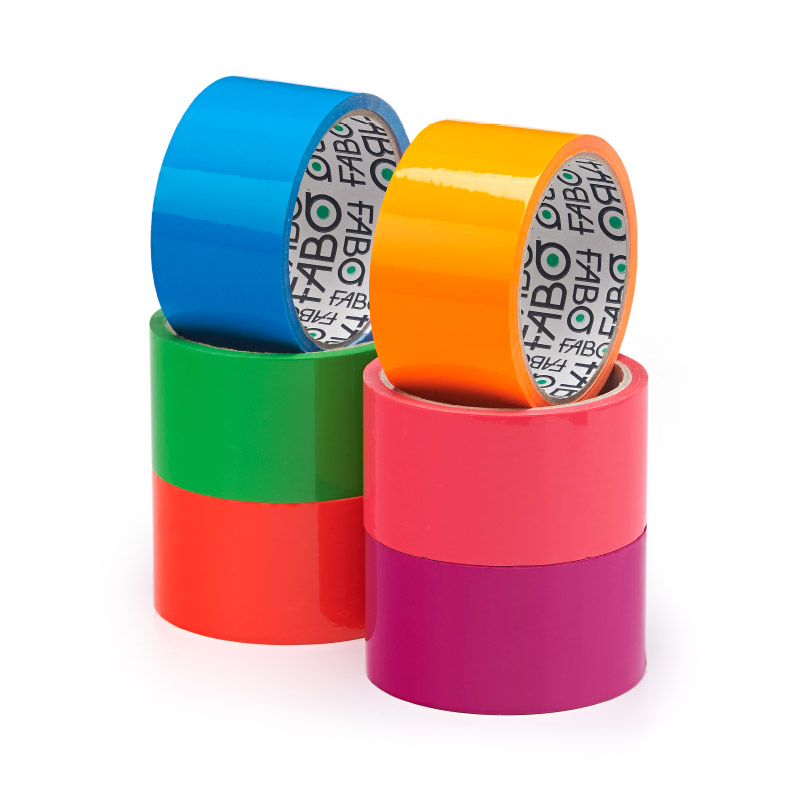 Printing is done using latest-generation machines that guarantee excellent print definition and colour brilliance. It is possible to produce coloured tapes with a solid background in your choice of Pantone colours.
Fabo, manufacturer of printed adhesive tapes
One of Fabo's fields of expertise as a producer of printed adhesive tapes is the high level of customisation of the adhesive solutions that can be achieved. Fabo adhesive tapes can be customised using the latest flexographic and digital printing technologies.
Quality and uniformity of colours represent important challenges that at FABO we manage by adopting the best and latest equipment and technologies available on the market.
The 100% colour printing precision allows printing of logos, brands, messages and special high-fidelity graphics on adhesive tapes. New generation spectrophotometers are the measurement solution that allows us to obtain the right colour quickly and easily. Integrated InkFormulation software helps improve raw material management, streamline processes and reduce hazardous waste in the colour workflow.
Finally, a sophisticated colour kitchen mixing station, interfacing with the software, creates the colour with a precision dosage close to 100% (percentage difference of 0.002%).
The company is equipped with a modern tintometric system and printing machines that create coloured prints in full colour with photographic quality and in particular colour tones, based on the specific requests of the customers, guaranteeing optimal results.
Fabo can execute – for a customer network that includes distributors, printers, cutters, adhesive tape converters and large industries – multiple colour prints with both back printing and sandwich printing on various media with one or more logos and your message in accordance with your requests.
The sandwich printing technique involves printing between film and adhesive, thereby guaranteeing the protection of printed texts and logos (anti-scratch). The type of sandwich printing also ensures excellent quality over time, high definition and uniform performance.
To ensure your customised tapes are of the highest quality, Fabo offers the Photo Quality solution for an incredibly accurate printing result. Fabo printed ribbons in Photo Quality allow you to communicate your brand in an effective and original way. Thanks to the four-colour flexo pre-print technique, it is possible to customise the tapes to communicate your message or brand in high definition.
Fabo printed tapes are made with water-based acrylic adhesive and hot melt adhesive. Printing can be done on various materials: BOPP, reinforced BOPP, MOPP (strapping), PE, PET and paper. To make the most of your customised tape, Fabo's graphic department supports you throughout the project development, monitoring the technical production of graphic applications to be affixed to adhesive tapes and other customisations available such as sleeves, labels and boxes.